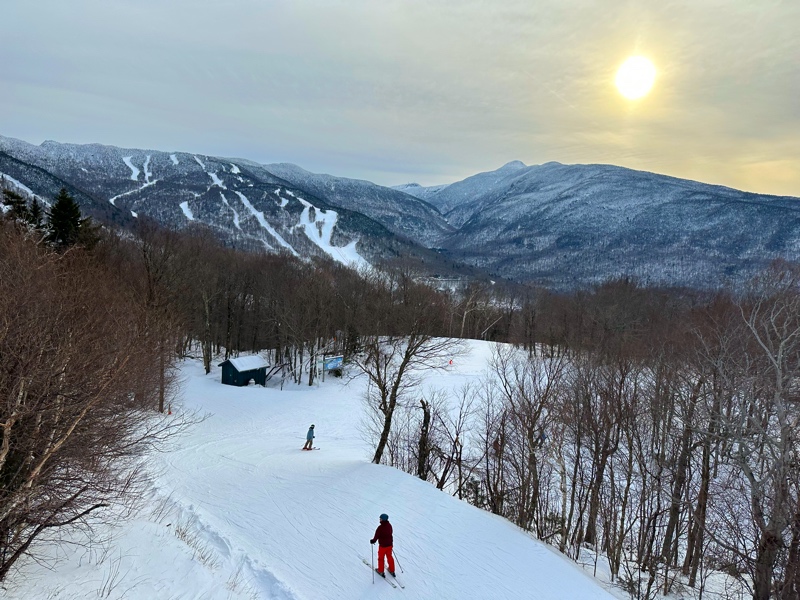 I skied all three mountains this morning. I started on Morse Mountain and skied over to Madonna. I took a few cruisers and a scenic run down Drifter. I then headed over to Sterling to check out the U14 GS race on Snake Bite and the Practice Slope. They were starting at the top of Snake Bite, so they had speed as they dove down the steep pitch. It was impressive to watch these athletes! This afternoon I switched my skis for a snowboard. I rode Morse Mountain, so I could work on carving. The bottom of Garden Path has a gentle pitch and is pretty wide. This made it easier to carve and not get too much speed. Tomorrow we plan to have top-to-bottom skiing and riding on all 3 mountains with 6 lifts operating, including the Madonna I Lift. We have 67 trails open with terrain for all ability levels. 31 trails will be groomed for tomorrow, including Smugglers' Alley, Upper FIS, and Hibernator for a grand total of 125 acres of freshly groomed terrain. Surface conditions are packed powder and machine groomed with average base depths of 8 to 30 inches. Currently, it is partly cloudy and 25 degrees at the summit of Sterling. Tomorrow's forecast is calling for a chance of a snow shower early with skies becoming partly sunny, a high of 30 degrees at the base, and 26 degrees at higher elevations. Temperatures will be falling throughout the day.
The Nordic Center is open with 15 km of snowshoeing and 17 km of cross-country trails. The ice rink is also open.
Next weekend the featured beer for the apres sports parties at Bootlegger's and the Black Bear Tavern is Bud Light.